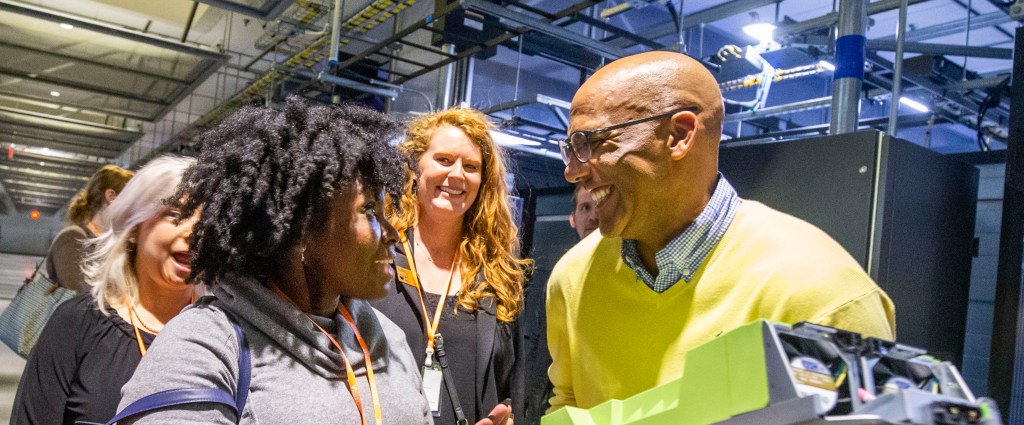 Data Center community action grants
Supporting community projects
Meta's annual Data Center Community Action Grants program provides direct funding to schools, registered nonprofits and community organizations in locations where we have an operational data center.
Meta Data Center Community Action Grants
2024 applications open from September 11 – October 20, 2023
We are committed to playing a positive role and investing in the long-term vitality of the communities where we have data centers. One of the ways we do this is by providing grants for projects that address critical community needs by:
Putting the power of technology to use for community benefit
Connecting people online or off


Improving local science, technology, engineering and math (STEM) education
Eligible organizations
Grant applications will be accepted by eligible organizations in communities where Meta has an operational data center (see eligible communities).
In the United States, 501(c)(3) organizations and public schools are eligible for grants. Schools are encouraged to notify the superintendent of desired grants to ensure the most competitive and feasible applications are submitted.
In Europe, registered not for profit organizations and government entities (including state-run schools and municipalities) are eligible for grants.
Schools may apply for multiple grants. All other organizations are limited to one application per cycle. Projects must have demonstrable metrics that can be publicly reported. Grant funds are intended to be used within one year of the grant award date.
Timeline
The application process is open from Monday, September 11, 2023 through Friday, October 20, 2023. Grant recipients will be announced in Spring 2024.
Apply for a grant
Click the application link below for your home country to apply for a Data Center Community Action Grant through CyberGrants, LLC. Please verify that your organization qualifies and you have read the country specific terms and conditions.
Grant Applications
Terms and Conditions
Learn more about the application process
Ineligible organizations include:
Organizations that make hiring choices or provide goods or services based on race, gender, faith, national origin, sexual orientation or disability.
Organizations that promote or support specific political ideologies, doctrines, candidates or issues.
For-profit companies.
Registered 501(c)(4) nonprofit organizations (United States).
Proposals for endowments, memorials, budget deficits or the like.
United States governmental entities.
Programs that support cash grants or scholarships for individuals.
Programs or projects operated exclusively for religious purposes or proselytizing.
Additional details
All applications are submitted via CyberGrants, a third-party site hosting the grant application.
Meta partners with CAF America to administer all grant awards. Grant applications are reviewed by a committee of Meta employees that make recommendations based on their overall merit and adherence to the grant guidelines.
Recipients are asked to provide a report on how the funds are being used and their impact in the community.
Meta will be collecting your data through the grant application, which will be used in accordance with our data policy. Please read your country specific terms and conditions for more details.
Eligible communities
---
United States
Cities of Mesa and Gilbert
Huntsville Data Center (Alabama)
Madison County
Stanton Springs Data Center (Georgia)
Jasper, Morgan, Newton, Walton counties
Cities served by the Southeast Polk and Bondurant-Farrar school districts
DeKalb County
Sarpy County
Los Lunas Data Center (New Mexico)
Valencia County
Forest City Data Center (North Carolina)
Cleveland, Henderson, McDowell, Rutherford, Polk counties
Franklin and Licking counties
Prineville Data Center (Oregon)
Crook County
Gallatin Data Center (Tennessee)
Sumner County
Fort Worth Data Center (Texas)
Tarrant County
Eagle Mountain Data Center (Utah)
Utah County
Henrico Data Center (Virginia)
Henrico County
Europe
Odense
County Meath
Boden, Kalix, Luleå, Piteå and Älvsbyn
Meet the 2023 Data Center Community Action Grant recipients